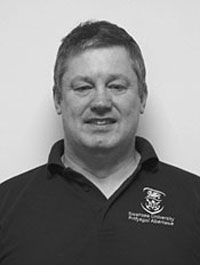 Mark Griffiths
Technical Manager
Mark has a BSc in Materials and Computing and over 20 years of experience in materials research, both within steels research and aerospace materials, including previous Welsh Technology Centre and the mechanical testing machine manufacturer, Zwick.
He is a specialist in materials testing and performance, including assessing the accuracy and precision of material data, and is a trained operator for mechanical property testing, including HEC, materials characterisation techniques and extreme environment process simulations and material performance tests in SaMI's SINTEC lab.
Mark supports product development research activities for HEC performance in the automotive sector, ironmaking and raw material research and product performance testing in extreme conditions.